Hey friend, I see you:


✔️ You crave financial freedom,
✔️ You are tired of that low-paying job,
✔️ You crave more time with your loved ones and doing the things you love,
✔️ You are tired of your toxic work environment,
✔️ You are tired of your micromanaging boss,
✔️ You tried to build a website but saw no traffic, felt frustrated and quit,
✔️ You tried to get backlinks from high-DA websites but saw no results,
✔️ You want to learn how to
really
get healthy, high-DA backlinks,
✔️ You want to successfully build a profitable niche site creating content about the topics you love.


If you can relate to at least one or two of these points, you're in the right place - and this could be your sign that it's time to change things.

Imagine earning $8,000 per month (or more)

Imagine finally living the life of your dreams. A life without a boss. A life without a toxic work environment. A life without alarm at 6 am.

You travel to Italy today, to Bali next week, then to Hawaii in two months.
Imagine a life where you can focus on your passions and spend more time with your loved ones.
A life free of debt.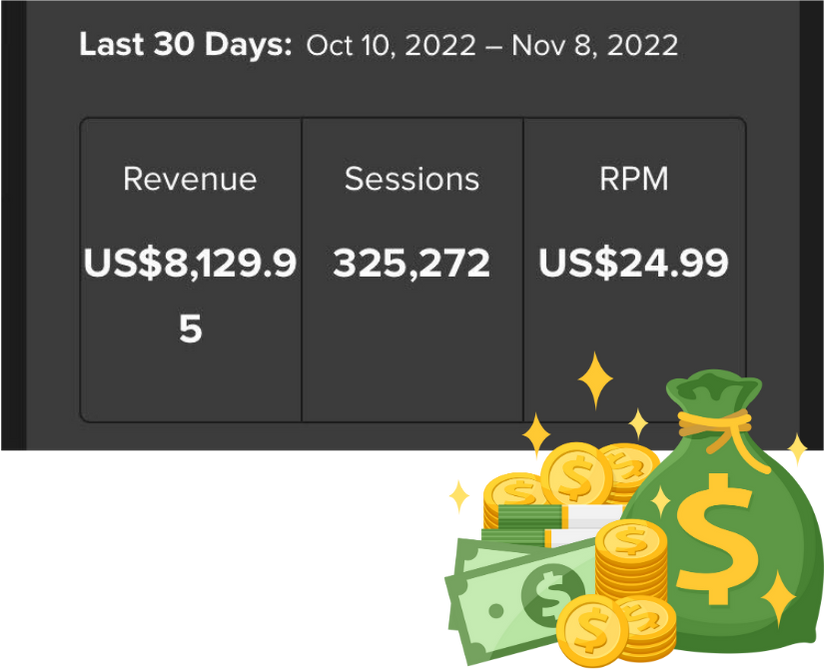 All you have to do is steal my proven process
When I hit my first $100 day, I couldn't believe it - that's $3,000 per month, and at that point a wesbite is already worth
six figures
.
When I hit my first $200 day after just a few weeks, I realized that all the efforts, time and energy I had put on my niche site were finally paying off.
And I also realized that I knew exactly
what process took me there
.
I also knew all the mistakes I could have avoided.
So I decided to:
📈
Replicate the process,
⚠️
Avoid all the mistakes I had made with the first site and
💲
Create other profitable niche sites to make more money.
And today
I'm going to share with you the same process
that helped me create a website worth six figures.
The Niche Site Wealth Course

In this course I'm going to share with you my proven method to:
✔️ Set up your niche site in 1 day,
✔️ Get your first posts indexed in less than two weeks,
✔️ Start to attract traffic in less than 4 months,
✔️ Transform your niche site into a passive-income machine worth six figures,
✔️ Join ad networks like Mediavine, Raptive and Monumetric in less than a year,
✔️ Start earning 4 figures/month in 15 months or less,
✔️ Repeat the process and build your
website portfolio
.
I'm also going to share the mistakes I would avoid if I had to start again from scratch.
So that you can create
your
own portfolio (and passive-income system) without wasting time and energy making my same mistakes.
Here's what you will learn:
🟢 The exact things I did that helped my site grow and attract organic traffic so quickly in a very competitive niche,
🟢 The things that helped me join Mediavine and make thousands every single month,
🟢 My secret strategy to outrank high-DA websites, even for not-so-easy keywords,
🟢 The things that really make the difference between a site that doesn't rank and a site that ranks well on Google and earns money,
🟢 The things I did to recover from a Google Core Update,
🟢 All the mistakes I made, so you will avoid them.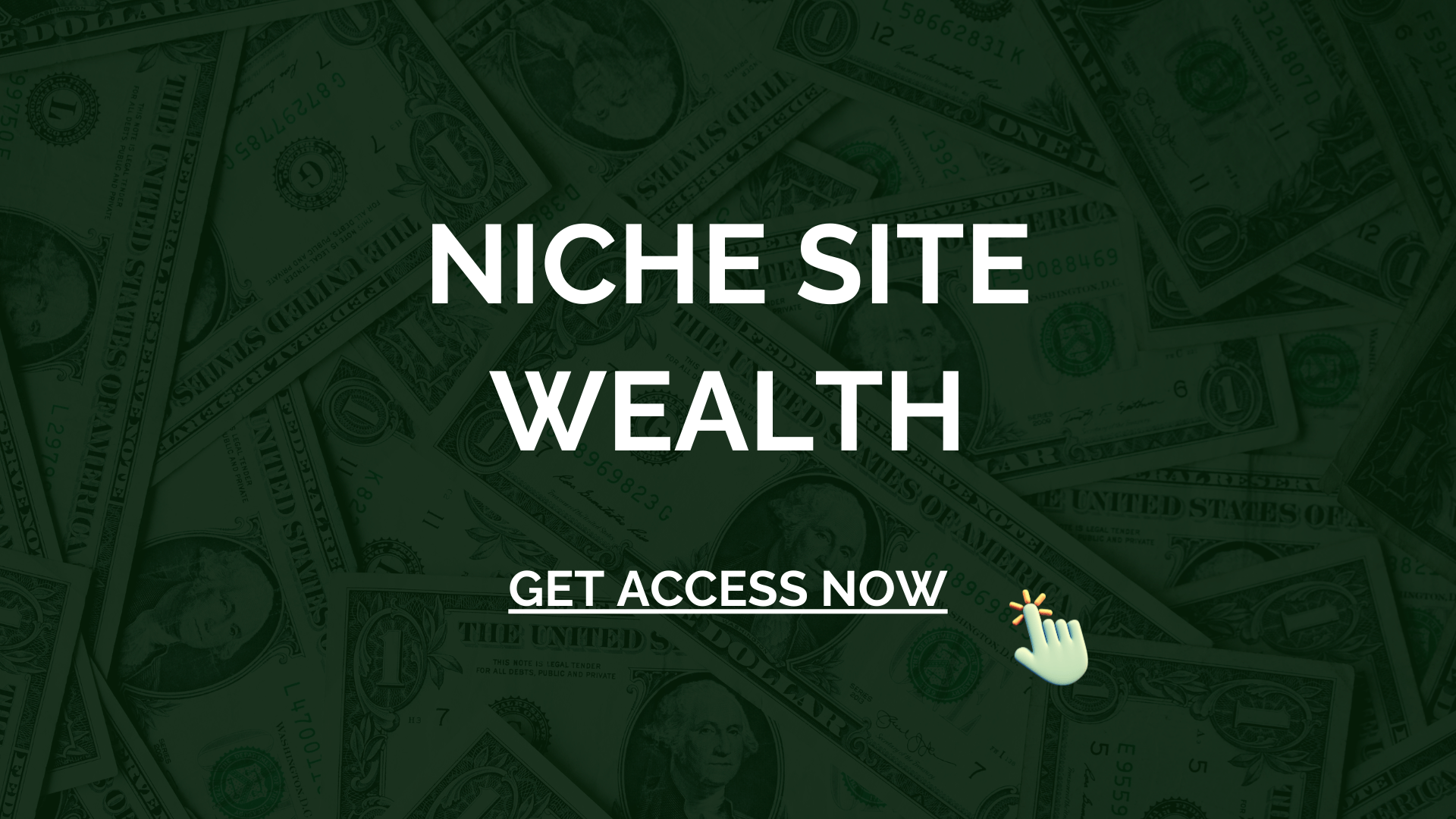 $197

✔️
Finding a Profitable Niche
✔️
Niche Ideas Spreadsheet (With Keywords, Categories and Domain Ideas Included for Each Niche)
✔️
Setting Up Your Niche Site
✔️ SEO 101
✔️ Bulletproof Keyword Research Strategies
✔️ No-BS Link Building Strategies
✔️ Article Templates
🎁
Bonus:️ How to Recover from a Google Update or Avoid Being Hit
🎁 Bonus: HARO Outreach Templates
🎁 Bonus: Guest Post Outreach Templates
🎁 Bonus: Monetization Strategies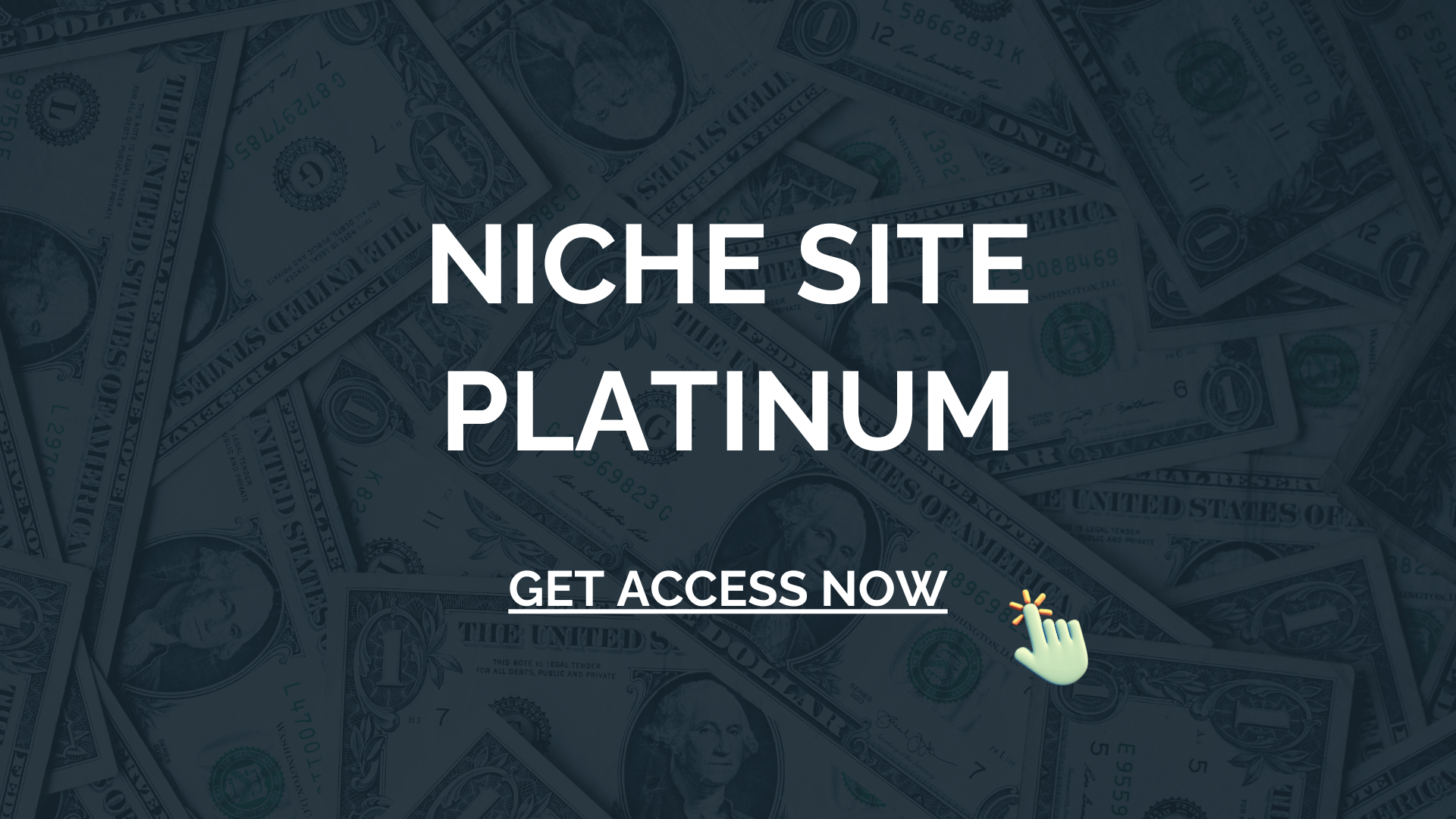 $899
✔️ Access to Niche Site Wealth
✔️ 4 Coaching Sessions
🎁 Bonus: Review of Your First Article with Personalized Feedback
WARNING: This special price may close anytime without notice. Secure your spot now.
Payment plans available

FAQs
Can I become an affiliate partner and promote Niche Site Wealth?
Sure thing. At the end of the course you will find a document with the instructions to apply to our affiliate program and earn money promoting our course.
How long will I have access to the course?
Forever :)
I'm not sure if I can afford this course.
Keep in mind that payment plans are available, so that you can pay in small installments if you want.
The real question is: can you afford not to enroll and miss the opportunity to learn to build a passive income machine?

From which countries can I enroll?
You can enroll from any country.

What's your refund policy?
We take refund requests into consideration in the first 14 days. However, you'll have to provide us with a valid reason and prove that after completing the course you have correctly put into practice the entire methodology. Here's our
refund policy page
.
Important: unfortunately we can't accept refund requests for payment plans.

Do you have more questions?